Bouncy hair... something we all shoot for, but sometimes come up short. Okay, I come up short. My hair is the bain of my existance and it frustrates me on a daily basis. Something that's helped me a lot lately are velcro rollers. I've read a lot about them, but I never tried them until one day on a whim. I got some of these Conair Ion Shine rollers. They're inexpensive, and they really make a difference when blow-drying your hair.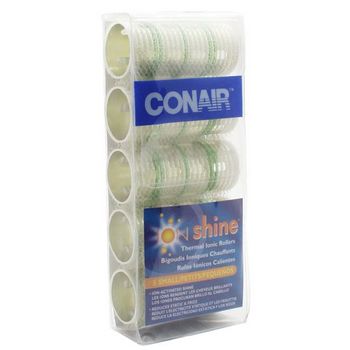 Start out blowdrying hair until it's about 80% dry, then take some volumizing spray and in sections, spray it on the underside of your hair right at the root. Roll that section in a velcro roller (it will stay in place, but if it doesn't use a little duckbill clippy). Proceed until all of your hair is rolled in velcro! Then blow dry the rest of the way dry. To give your hair time to cool in the rollers, finish up makeup or get dressed, then carefully unroll each roller. VOILA! Instant volume, straight hair, and no frizz! Finish off with a little gloss at the ends, and I swear you'll look like you just got a blowout at the salon. For next-day hair, you can spritz your roots with a little hairspray or water to re-activate the product, roll back up in the velcro rollers, set with a blow dryer and your hair still looks great.

If you don't have velcro rollers, get a couple of packs of the big-size and go to town! All you need are 6 or 8 to give your roots volume and smooth down frizzies that happen in this crazy dry and cold weather. I kid you not, this is one of the cheapest fixes for blah-feeling hair in between cuts.